Nashville (United States)
Non-stop flights on sale to Nashville, starting at only $239 R/T from Montreal.
Don't miss the next deal, follow us on social media or subscribe to our free e-mail alerts:
Here are some examples we have found:
More dates available, you can also switch dates between the examples to change the duration of your trip.
Which countries are open to tourists ?
Compare prices for flights on:
Best sites to find the lowest price on accommodation:
List of baggage allowance for each carrier
Have you been delayed or canceled on a flight to or from Europe in recent years? If eligible, get compensation up to 600 € ($880 CAD) with the help of our partner Airhelp.
* All prices were valid at the time of publication, but prices may change quickly and some may not be available for long. See terms and conditions for more details.
Screenshot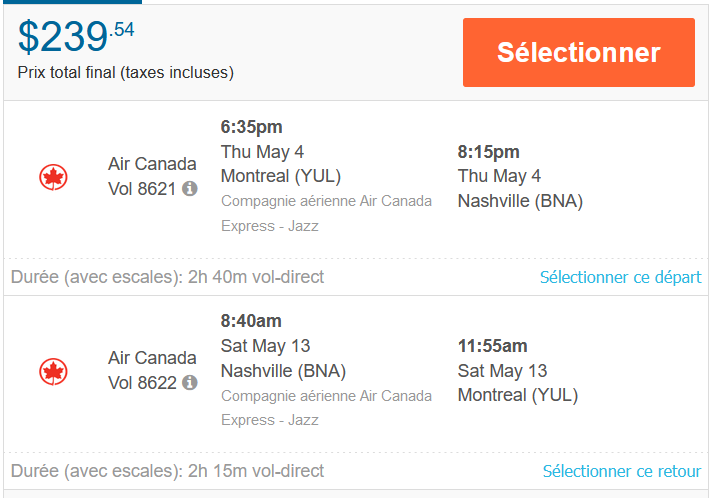 One of the South's premier tourist destinations, Nashville offers something for everyone. From its reputation as the epicenter of country music to being the "Athens of the South," Nashville provides a vast array of musical events, museums, shopper-tunities and landmarks to make any vacation here memorable and meaningful.
The Grand Ole Opry used to be held in the Ryman Auditorium, but now has moved to the Grand Ole Opry House. The Ryman Auditorium is open for tours and for concerts.